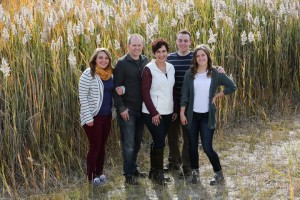 The reason He works so hard & has pride in his printer repair work is His loving family.
Dave L  , wife & 3 kids.
Yes, the company name is a play on his name & quality service is his game!
LongLifePrinters.com is the Web name.
Dave Longmore as owner / operator has a Hewlett Packard Printer Repair Shop in Salt Lake City, Utah, named LongLife Printers  Call Him at:   (801) 305-4986.
Dave,  as lead technician,  has 23 years of full time printer repair under his belt with over 17,000 printers repaired since 1996. Three other well trained technicians are available when needed for on call work.
After getting an AAS degree in computers / electronics from Heald College, Fresno, CA in 1996 & working for a Hewlett Packard Warranty Center for 4 years, Dave opened his own repair shop in May, 2000 in Fresno, California & enjoyed every minute of helping customers with their printer needs for 7 years before selling that company & moving his wife & 3 children to Utah to be closer to relatives; and starting from scratch to build a new business.
Because Dave has prided himself on quality repairs that last including meticulous cleaning & a motto of "No gouging the customer allowed",  his clients trust his work & the customer base continues to grow from a Children's Hospital with over 600 printers to the neighbor down the street with 1 home laser printer.
In 2010 LongLife Printers has started offering network & phone line cabling & laptop hardware repair as well.
Since 95% of LongLife's repairs are out on site, their reach is from Bountiful, Utah in the north to Salt Lake City, Utah in the center to Lehi, Utah, American Fork, Utah & Pleasant Grove, Utah in the south. They want your business & will respond quickly to your needs.
Call or email any time at:   (801) 305-4986    or:    dave@longlifeprinters.com
Home Office:    3234 W. Iron Gate Rd.  South Jordan,  Utah 84095
Please call ahead of showing up at our office — as we're often out on jobs.